PG Diploma in Dance Movement Therapy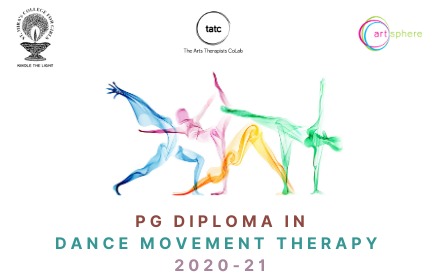 About
The Arts Therapists Co Lab and Artsphere, in academic collaboration with St. Mira's College for Girls (Autonomous, Affiliated to Savitribai Phule Pune University) the PG Diploma in Dance Movement Therapy course. It is a 650+ hours course. The diploma is spread over one year and has an internationally trained faculty, that conducts experiential sessions, webinars, online classes, personal therapy, supervision and group process work throughout the year along with guiding the students through a 100-hour internship.
Object
On completion of the Course the learner will be able to:
Understand the psychological and physiological context behind the science of DMT.
Engage with various schools of thought of psychology that DMT draws from and start to explore how to work in a variety of settings.
Develop their own framework of therapeutic presence by understanding the scope of the work.
Develop some basic session planning, research and documentation skills for their work.
Understand the relationship between various arts therapies
Explore their intermodal preferences and opportunities of working in collaborative teams and setups further.
Discuss the ethics and ethical dilemmas help prepare the students for practical work environments.
Understand the basics of research methodologies.
Develop research acumen and learn the art of documentation work with DMT.
Explore self-care, self-work and Continuous Professional Development.
Eligibility Criteria
Applicant should be a graduate with a bachelor's degree in any subject
An introductory Psychology module will be conducted and will be mandatory for non-psychology students
A 90% attendance is crucial for course completion and certification
Outstation students have to arrange their own accommodation
All applicants will undergo a two-level Interview screening as part of the selection process
Course Details & Content
Dance Movement Therapy
Introduction to Dance Movement Therapy
Theoretical references to Dance Movement Therapy
Tools and techniques of Dance Movement Therapy
Developing Cultural Competence
Developing Movement Language
Psychology Theories (DMT/PT/1802)
Psychodynamic theories
Developmental psychology
Psychosocial and Psychosexual Stages
Working with groups and Specific Populations
Working with individuals
Introduction to Basic Documentation
Facilitation Practice & Reflexivity (DMT/FPR/1803)
Creative Arts Therapy & Expressive Arts Therapy
Different models and approaches
Settings & Assessments
Self - work
Understanding Research
Research Methodology (DMT/RM/1804)
Basics of Research Methodologies
Research & Documentation for Dance Movement Therapy
Quantitative and Qualitative Research
Practicum (DMT/PR/1805)
Submission of the final report post the fulfilment of the required internship hours.
Viva conducted by the academic board in partial fulfilment of the course.
Supportive Modules
Students must complete 36 hours of personal therapy during the training and internship period
Group Process work will be conducted during every unit (2 hours every unit)
Each Semester will consist of assignment and library hours
Each Semester will consist of facilitation and reflection hours
Students will be asked to choose a setting and undergo a supervised internship (upto at least 30 hours)
Continuous Teaching Evaluations Methodology
Written psychology and DMT assignments
Facilitation assessments
Critical thinking and reflexive essays
Academic Staff
Anshuma Kshetrapal - Course Director, Drama & Movement Therapist
Preetha Ramasubramanian - Dance Movement Psychotherapist
Tripura Kashyap - Dance Movement Therapist
Dr. Jaya Rajagopalan - Psychology Dept Head, St. Mira's College
Devika Mehta - Dance Movement Psychotherapist (R-DMP)
Neha Christopher - Creative Arts Therapist (L-CAT), Dance Movement Therapist (BC-DMT)
Tanvi Bajaj - Somatic Movement Therapist, Psychologist, Movement Analyst
Mugdha Shivapurkar - Psychologist, Therapeutic Movement Facilitator
Administrative Staff
DhwaniGiri - Course Coordinator
Amit Khandare - Finance & Accounts Manager
Atul Prabhale - Artsphere Studio Manager
Course Schedule
Term I:
October 8th - October 15th, 2020 (online)
November 1st - November 7th, 2020 (online)
Timings: 10 am - 6 pm or 2 pm - 6 pm
Term II:
December 7th - December 13th, 2020 (online)
January 16th - January 24th, 2021 (on-site)
Timings: 10 am - 6 pm or 2 pm - 6 pm
Term III:
February 13th - February 21st, 2021 (on-site)
March 6th - March 14th, 2021 (on-site)
Timings: 10 am - 6 pm or 2 pm to 6 pm
Term IV:
May 22nd - May 29th, 2021 (on-site)
Timings: 10 am - 6 pm or 2 pm to 6 pm)
Timings are subject to change to accommodate the guest lecturers. Prior notice of changes will be emailed to students.
A 15 min recess is given twice a day along with a one-hour lunch break from 1 pm - 2pm. 10am - 6pm are marked full days & 2pm - 6pm are marked half days.
Number of Seats & Fees
Student Intake - 25
Fees Information
The course fees for the 1-year Diploma is INR 1,00,000/-
The fee can be paid in two instalments of 50,000/- each.
The course fees for the pre-psych course is INR 10,000/-
The combined fees for the pre-psych and the 1-year Diploma is INR 1,10,000/-
All applicants have to pay INR 100/- towards the application form.
Applicants have to clear both the interview rounds in order to be accepted into the course - one telephonic/video interview and one video submission of their movement repertoire .
Contact Us
Call
Contact on +91 9884884672
Course Coordinator - 9884884672
Finance Manager - 9764800053
Artsphere – 9561720001
Email
courses@soulspherepune.com
pgdmt@stmirascollegepune.edu.in