Centre for Women's Entrepreneurship (CWE)
Vision & Mission Statement
Vision Statement
CWE aims to create an environment that promotes and stimulates the spirit of entrepreneurship among the students of the College.
Mission Statement
CWE seeks to achieve the spirit of entrepreneurship through educational programs, events, activities and research.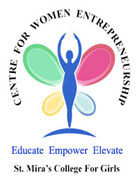 About CWE
Centre for Women Entrepreneurship (CWE)
CWE is an initiative taken by Departments of Business Studies and BBA
The Centre focuses on creating agender-sensitive entrepreneurial ecosystem among the students of the college and creating more awareness towards taking up entrepreneurship as a career option.
Registration is open to
TY Students across all streams and really interested SY and FY students as well!Please fill the Registration Form at the earliest.
For further details contact
Dr. Rama Venkatachalam - Coordinator
CWE, Cubicle No.7, 2nd Floor
Email: rama.venkat@stmirascollegepune.edu.in
All registered members will get a certificate at the end of the academic year.
Feel free to drop in an email or contact us via our Facebook page (www.facebook.com/cwepune)
CWE Registration Form
Committee Members
Dr. Gulshan Gidwani, Advisor to CWE
Dr. (Ms.) Rama Venkatachalam, Co-ordinator, CWE
Ms. Abhradita Chatterjee Nahvi, Co-coordinator. CWE
Other Members
Ms. Jyoti Chintan
Ms. Rajni Singh
Ms. Shanthi Fernandes
Ms. Deepa Krishnamurthy
Ms. Rekha Kankariya
Ms. Amrita Basu
Ms. Kajal Jaisinghani
Contact Details
Dr. Rama Venkatachalam
Coordinator : CWE, Cubicle No.7, Departmental Cubicles - 2nd floor, St. Mira's College.
Email : rama.venkat@stmirascollegepune.edu.in / cwe@stmirascollegepune.edu.in
CWE Activities
Report on Inauguration of Incubation Centre - CWE
The CWE, St. Mira's College inaugurated the Incubation Centre on Nov 28th, 2019. Dr Apoorva Palkar, Director - Innovation, Incubation and Linkages at SPPU inaugurated the Incubation Centre. The Incubation Centre is an initiative of Centre for Women Entrepreneurship (CWE) at St. Mira's College and is created in collaboration with Centre for Social Entrepreneurship, TISS Mumbai. The Incubation Centre has been setup to create and develop an entrepreneurial ecosystem in the social impact space.
On the occasion, Dr. Palkar shared her vision and words of wisdom with the student members of the Centre and the faculty. She emphasized and illustrated upon the importance of ideas, passion and entrepreneurial spirit as the necessary inputs for a successful start-up.
The programme ended with the vote of thanks delivered by Dr. Rama Venkatachalam, Program Manager, Incubation Centre.
A Day at Midas – An Entrepreneurship Workshop on 26th November 2019
35 students of CWE attended the highly interactive and interesting workshop conducted by coach Mr. Vishal Shah & his team. Students were taken through the core skills needed to be a successful entrepreneur, with lucid examples. Students gained insights into what it takes to assemble an entrepreneurial venture; and, how entrepreneurship is a way of living, and not just a career option.
Not only were challenges, but also the steps to be followed from the initial stage outlined. New concepts of effectuation and tools to measure entrepreneurial skills among the students were explained in detail. The students actively participated in the brainstorming sessions.
Centre for Women Entrepreneurship Intra-College Activity – Waste-O-Mania (Creating Best out of Waste)
In connection with the World Entrepreneurs' Day, the Centre for Women Entrepreneurship organized a Inter-College Competition 'Waste-O-Mania' i.e. creating best out of waste on 31st August 2019. The event was an initiative to promote sustainable development and prove that the 3R's – reuse, reduce, recycle are the best strategies to make the most out of waste materials. The objective behind the activity was to bring out the creative ideas on reuse of the waste material for a better tomorrow. The ideas generated would be of economic and material value for the students to create environmental consciousness among them.
The result of the event was that participants created excellent products like home decoration, Ganpati decoration, wall hangings, photo frames, paper baskets, pen holders etc. The students displayed a lot of enthusiasm and energy during the event. They realized how reuse of waste can make a better tomorrow. Judge Ms. Meher Omer, a Fine Artist and an Art Teacher, was delighted to see the wonderful products made out of waste in a short time. The activity ended on a note of fulfillment and a sense of achievement.
Session in connection with Global Tiger Day (2019-20)
In connection with Global Tiger Day, CWE in collaboration with Footloose Journeys, a novel travel venture in the area of Responsible & Sustainable Tourism conducted a very interesting and interactive session on 29th July 2019 at St.Mira's College.
Mr. Paresh the co-founder of Footloose Journeys shared informative insights through interesting clippings on the Royal Bengal Tiger of India— its population, the ecosystem, habitat and the various jungles in India where tigers are found. He also discussed in length the efforts taken by the forest department and wildlife enthusiasts to save the tiger and increase its numbers. Videos showing the camera trappings tracking the movements of the tiger and the various threats to the tiger population were an eye-opener. He concluded his talk by sharing simple tips to save the environment and wildlife. Volunteering opportunities in wildlife conservation was also offered to the students. The students said that they learnt so much about tigers that made it them proud to be part of an amazing wildlife ecosystem.
Inaugural Talk (2019-2020)
The CWE organized an inaugural talk on 'Experiences of an Entrepreneur' on 18th July 2019 at St. Mira's College. The talk was conducted by Ms. Mousami Nilakhe, a certified NLP Master Practitioner and Coach. She had been an excellent Project Manager in the field of Software Testing and worked with MNCs like Capgemini, Kanbay and Oracle Financial Services.
Ms. Nilakhe shared her experiences as an employee of the IT industry and her journey as an entrepreneur. She broadly covered the various qualities and skills required to be a successful entrepreneur with lucid examples and case studies. She shared practical tips on developing various skills like reading autobiographies, watching interviews, taking responsibility in organising events or activities, social services, etc.
She also focused on the challenges in entrepreneurship. The highly interactive session helped students understand the pros and cons of taking up entrepreneurship as a career option.