Centre for Women's Entrepreneurship (CWE)
Vision & Mission Statement
Vision Statement
CWE aims to create an environment that promotes and stimulates the spirit of entrepreneurship among the students of the College.
Mission Statement
CWE seeks to achieve the spirit of entrepreneurship through educational programs, events, activities and research.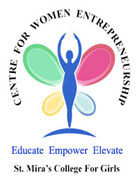 About CWE
Centre for Women Entrepreneurship (CWE)
CWE is an initiative taken by Departments of Business Studies and BBA
The Centre focuses on creating agender-sensitive entrepreneurial ecosystem among the students of the college and creating more awareness towards taking up entrepreneurship as a career option.
Registration is open to
TY Students across all streams and really interested SY and FY students as well!Please fill the Registration Form at the earliest.
For further details contact
Dr. Rama Venkatachalam - Coordinator
CWE, Cubicle No.7, 2nd Floor
Email: rama.venkat@stmirascollegepune.edu.in
All registered members will get a certificate at the end of the academic year.
Feel free to drop in an email or contact us via our Facebook page (www.facebook.com/cwepune)
CWE Registration Form
Committee Members
Dr. Gulshan Gidwani, Advisor to CWE
Dr. (Ms.) Rama Venkatachalam, Co-ordinator, CWE
Ms. Abhradita Chatterjee Nahvi, Co-coordinator. CWE
Other Members
Ms. Jyoti Chintan
Ms. Rajni Singh
Ms. Shanthi Fernandes
Ms. Deepa Krishnamurthy
Ms. Rekha Kankariya
Ms. Amrita Basu
Ms. Kajal Jaisinghani
Contact Details
Dr. Rama Venkatachalam
Coordinator : CWE, Cubicle No.7, Departmental Cubicles - 2nd floor, St. Mira's College.
Email : rama.venkat@stmirascollegepune.edu.in / cwe@stmirascollegepune.edu.in